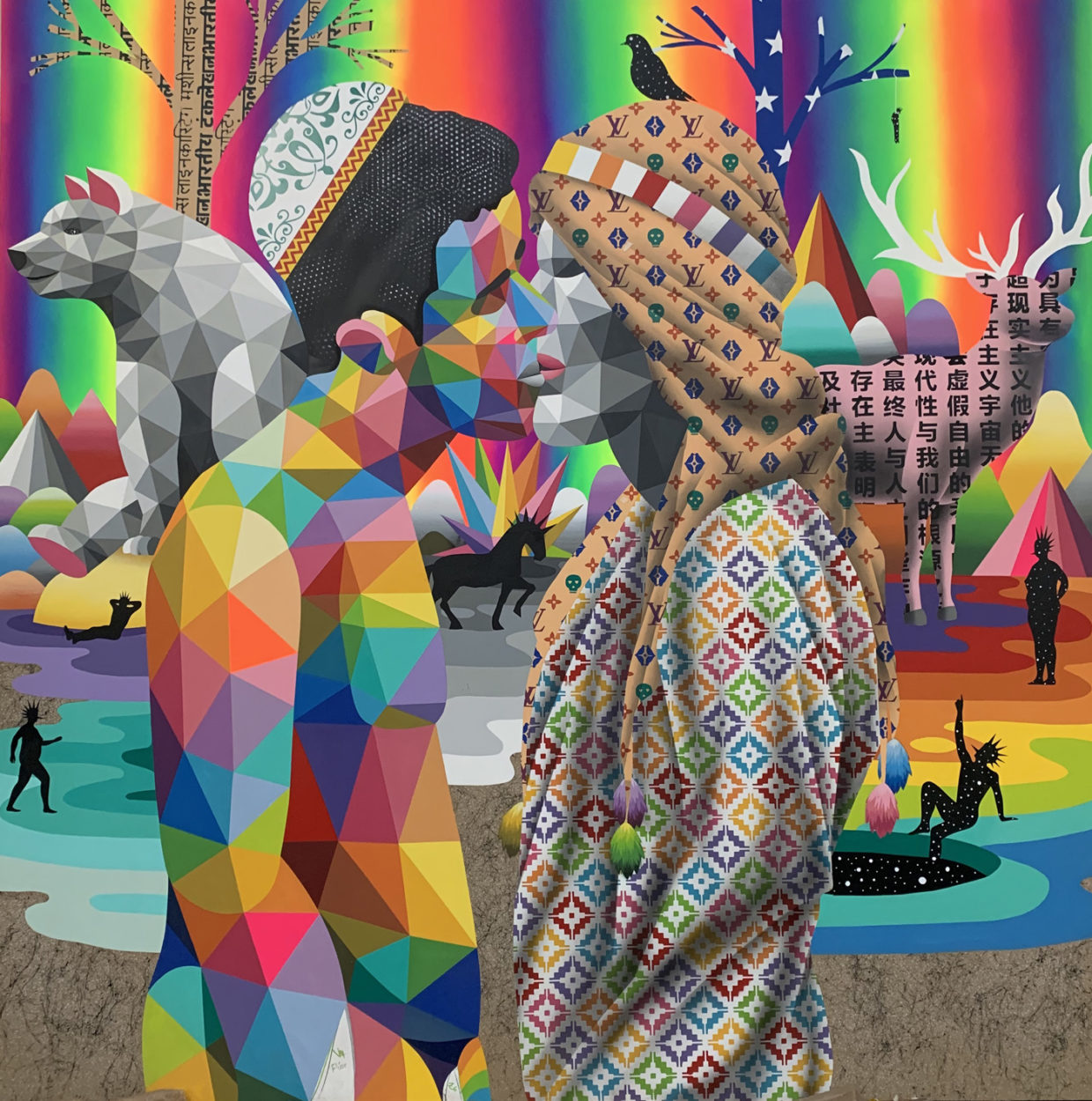 Photo Credit: Okuda San Miguel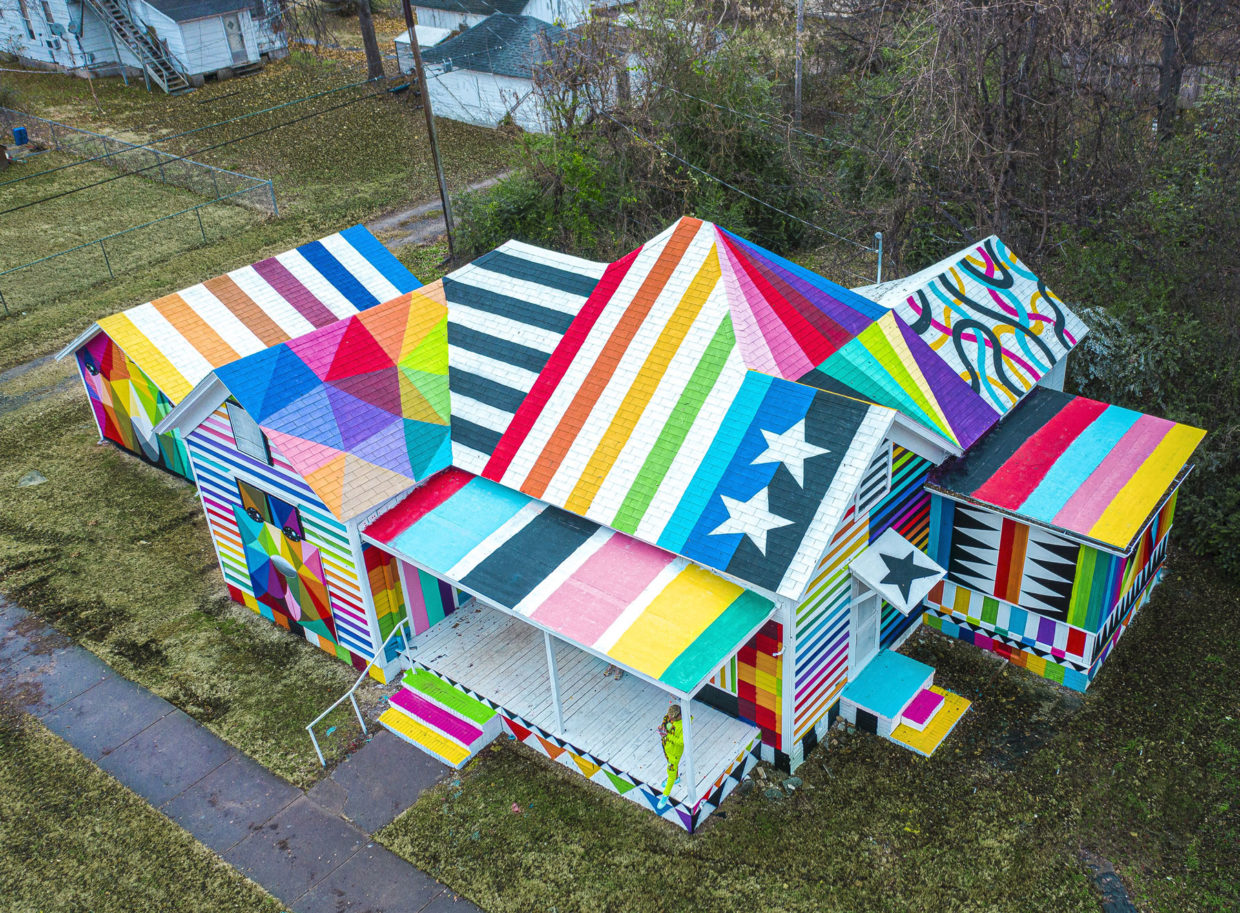 Photo Credit: Okuda San Miguel
Photo Credit: Okuda San Miguel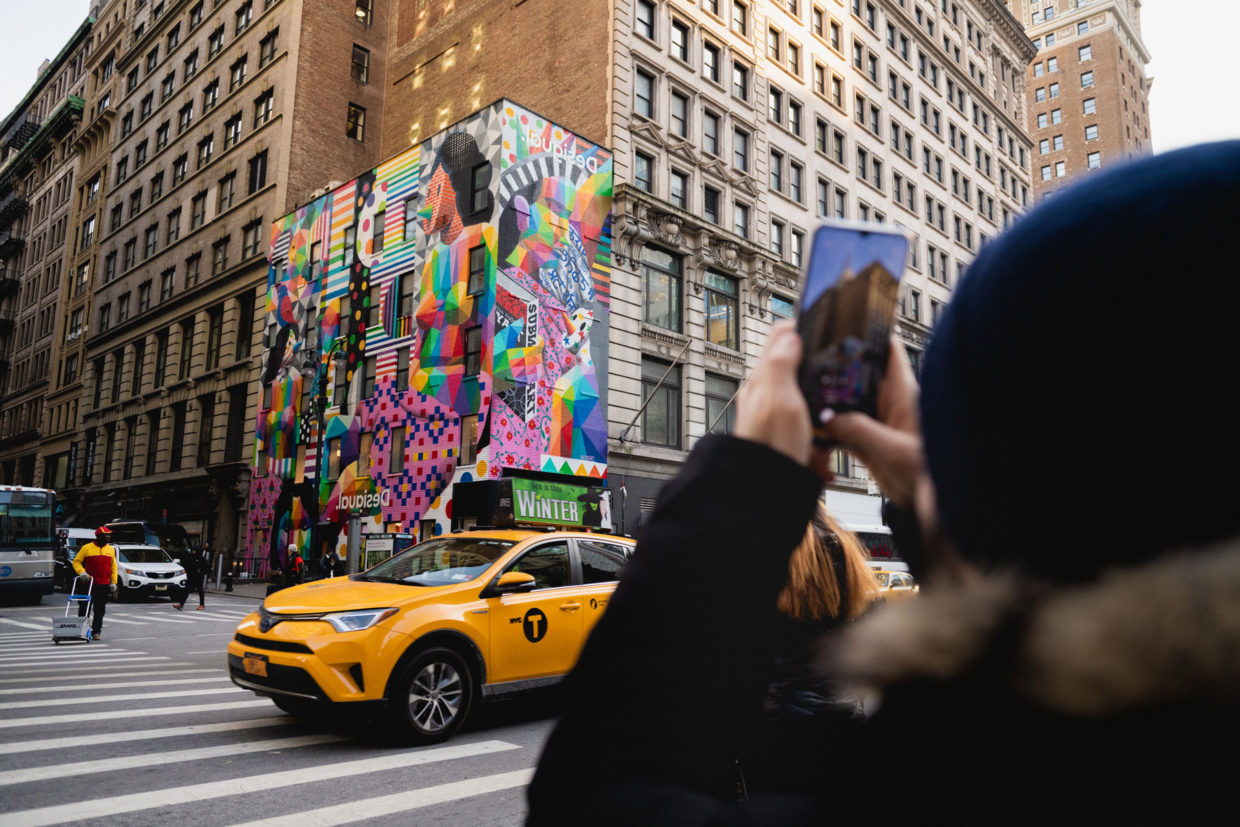 Photo Credit: Okuda San Miguel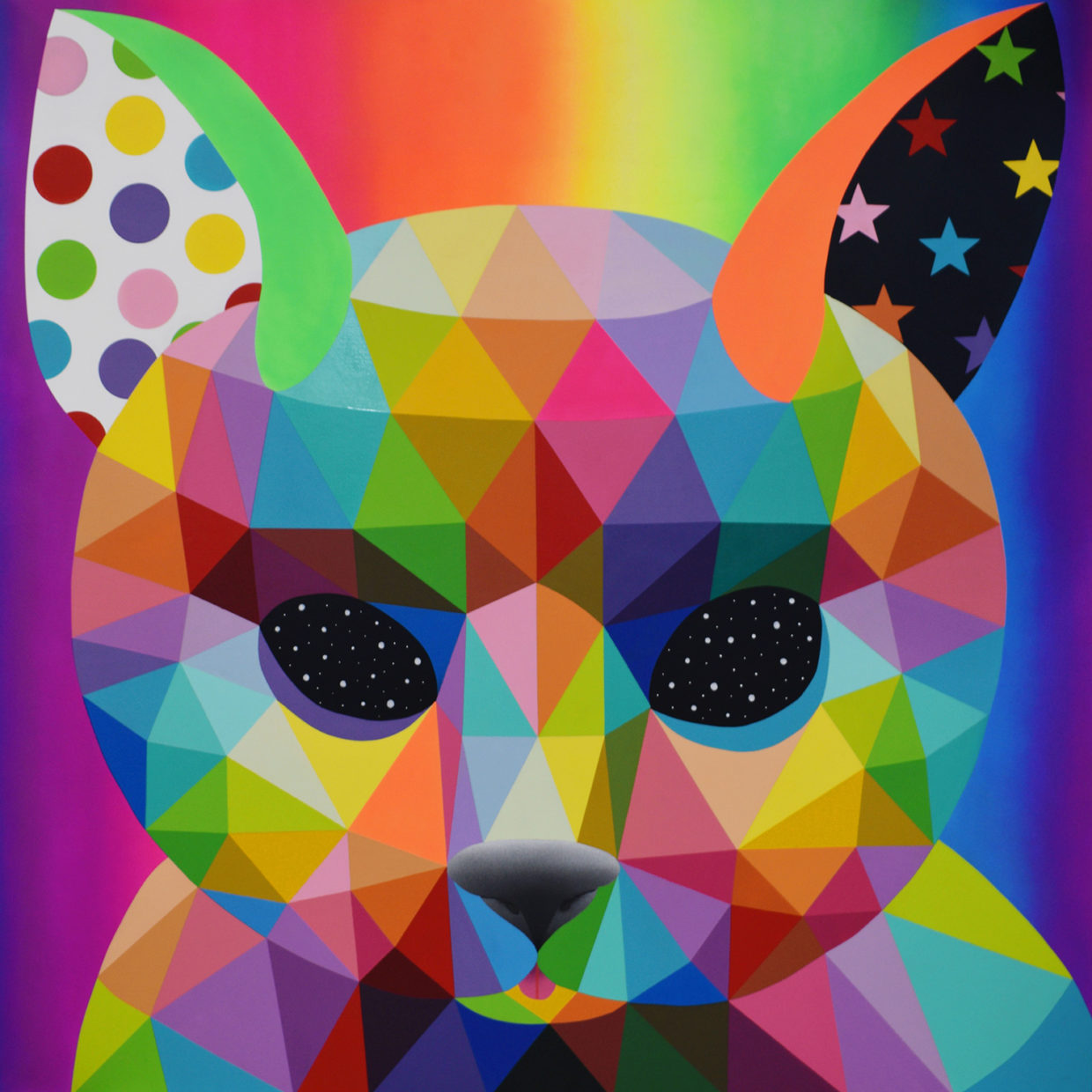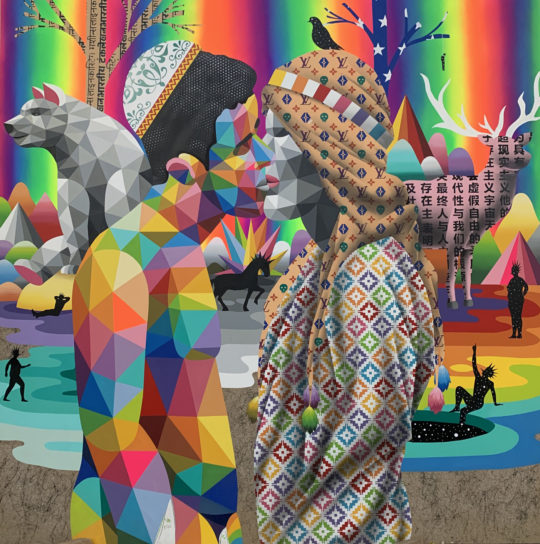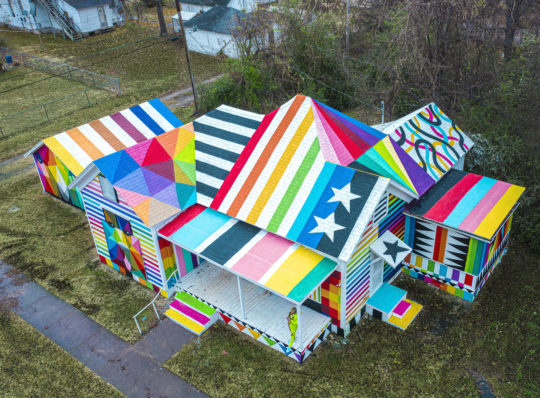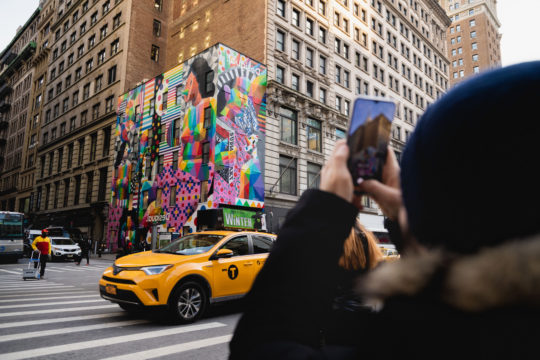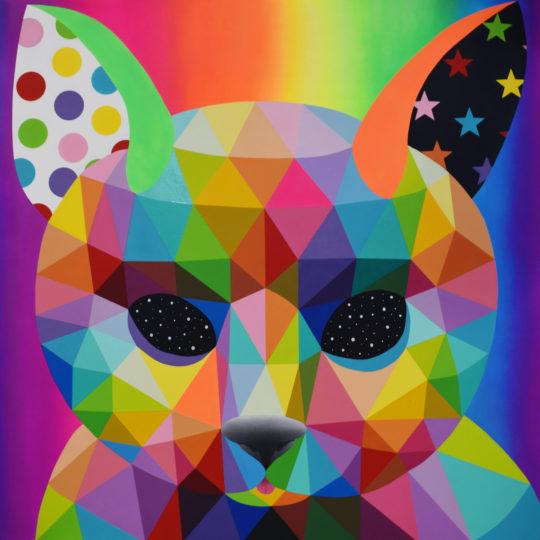 Okuda San Miguel
Born in Santander, Spain, 1980. Lives in Madrid and works from his studio in the Spanish capital.

The unique iconographic language of Okuda San Miguel, with its geometric structures and multicolored patterns, together with his active participation in major social projects, has made him one of the world's most recognized and admired artists.

In 2015, Okuda completed Kaos Temple, a highlight of his career in which he transformed a church converted into a skate park into a showcase for contemporary art. Since then, he has been sought out by cultural institutions and private brands across the world to work on large-scale public projects, as well as for his multifaceted studio practice, which he began in 2009.

Okuda's repertoire includes mural and sculptural interventions and gallery exhibitions on four continents. His distinctions include being the first contemporary artist to be chosen for Valencia's prestigious Falles festival, a spectacular series of sculptures for Boston Seaport and his participation in the Titanes project, designed to promote social inclusion through art.

He also produces work on canvas, incorporating elements of embroidery and collage. His insatiable appetite for creation has also led him to experiment with other formats, such as sculpture, photography and video.

His creations mix color and geometry with organic shapes to create an evocative symbology. Okuda's work can be classified as Pop Surrealism but maintains the essence of its roots in the streets. Always seeking to inspire viewers, his works raise universal issues while leaving the final interpretation up to them.

ARTIST STATEMENT

For me, the most special thing about working in the street is discovering new places, transforming them with paintings and sculptures, and being inspired by the people who live there. There is a real sense of the transformative power of art and how it can improve surroundings. My biggest motivation is the enjoyment I get from continuing to discover new countries, new cultures and new people. This is the root of a strong interest in encouraging cultural dialog.

At the same time, I also need to create to be happy. That's why I have set myself the challenge of growing and maturing my studio work through discipline and commitment, without worrying about whether it sells. I'm always working on new projects and I never want to stop evolving. For example, my sculptures arose from a need to see my paintings come to life in three dimensions to create an exhibition space that wasn't just confined to the canvas.

Working in the street exposes you to direct communication with many different people, while studio work is more intimate. In both cases, I love combining different worlds, whether in public spaces or within the confines of four walls. I'm inspired by everything around me: friends, travel, music, the street, night time, cinema…

I'm a non-conformist artist. I see myself as a creator of works—large format in public spaces and more accessible formats in the studio—that are fragmented into geometric shapes and with a strong polychromatic element.

My style is the product of a long and substantial evolution from the lettering I used when I started creating in the street and its progression to the geometric shapes I work with in the studio. When I started studying art history, surrealism was my first love. I identify with artists like Dalí and Magritte. I'm also a great admirer of Japanese artists like Keiichi Tanaami and Tomokazu Matsuyama, who explore a modern version of surrealism. However, I rank Hieronymus Bosch and his triptych the Garden of Earthly Delights above them all. Thanks to these influences, my work can be defined as being based on surrealist compositions and strongly inspired by ancient cultures, mixed with contemporary icons and with a nod to my past as a graffiti writer.

Another aspect of my development as an artist is that I have allowed myself to be seduced by the intrinsic relationship between art and the urban landscape. I find it fascinating to play with architecture, seeing how you can transform windows into eyes and creating stories from walls. For me, this translates into the combination of classical architecture and contemporary painting in many of my pieces in public spaces. One of my goals is for this combination to be not just an artistic element but also a part of the space for living, one in which people can coexist.

I like to work with a wide range of animal and human shapes, each with their corresponding meanings. Some of my favorite icons are the skull, a symbol of life, and the dove, a symbol of freedom. I like to explore the potential of mutations between them, as well as between animals and humans, playing with their scales and creating impossible digital creatures. At the same time I tend to situate humans and nature on the same level to arrive at a sort of universal equilibrium… At its heart, it's a metaphorical way of defining God.

Ever since I started out painting graffiti, I have always worked with other artists. In this world, collaborations are the norm and there is a real sense of brotherhood. This is something I'd like to preserve. Working with other artists is like taking my art to other worlds.

My work seeks to provoke reflections on issues that affect us all, with an optimistic message that invites people to enter a magical world.

I also see myself as an artist who has transferred the aesthetic of the thought of our times to the public space.

My art talks about the past and the future, modernity and our roots, and the ability of human beings to transform nature. For me, color represents multiculturalism, different genders, plurality… Flags, races, genders… they're all there. Color is part of my basic psychology. My use of all the different colors shows that we are, in fact, one. On the other hand, my use of geometry represents modernity, the digital world. The dialog between the organic/natural, on the one hand, and the future/artificial, on the other, has been a constant throughout my career, in contrast to a modern society that has cut off all communication with its spirituality and has failed to respect nature. In doing so, it has sown the seeds of its destruction.

Both in the studio and in the street, I try to avoid fixed messages while addressing universal themes. I try to open paths instead of giving closed answers. For me, it's not the solution that's important, it's the path that takes you there. My message is fixed. It's open to interpretation, both for people who see my work in the street and gallery viewers.
Shows with Okuda San Miguel